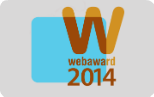 OCTA's CAMM NET Website honored with WebAward 2014 Standard of Excellence Achievement award.
The Web Marketing Association announced the winners of its 18th annual WebAward Completion for Web site development. More than 1,500 entries from 40 countries were adjudicated in 96 industry categories. Entries were judged on design, copy writing, innovation, content, interactivity, navigation, and use of technology.
OCTA's CAMM NET Website was awarded the Standard of Excellence Web Award in the Transportation category for the 2014 Web Awards.