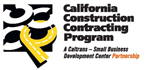 How can the California Construction Contracting Program benefit me?
The program makes available strategically placed California Construction Contracting Programs, all located within existing Small Business Development Centers, offering the free training and counseling you need to enhance your ability to bid for and WIN state highway and other local agency construction contracts.
Small Business Development Opportunities
Receive complimentary, personalized construction management counseling in a confidential, one-on-one setting that will increase your successful participation in Federal-aid highway projects and other transportation related contracts. Counseling and training is provided by experts in the transportation contracting and management field. Areas of counseling and training include:
Cost estimating methodologies
Cost proposal assistance
Marketing to prime contractors
Expectations from prime contractors
Proposal development
Researching the internet/web to identify projects available for bid or proposals
Preparing bid and proposal documents for on-line submittal
Architectural and Engineering preparation and related technical requirements
Next steps after receiving a contract award
How do I find out more?
The California Construction Contracting Program is a partnership between Caltrans, the California Community College's Economic and Workforce Development Program and the California Small Business Development Center program. To find out more go to the California Construction Contracting Program website at, please http://www.buildcalifornia.org.
[X]
Please enter your feedback below:
Submit
Thank you for your feedback!